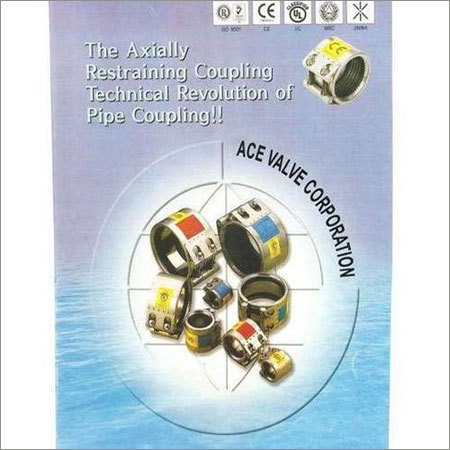 Product Description
Backed by a modernized infrastructure facility, we are able to provide the clients with a wide range of Pipe Couplings. These products are used in different pipe fittings for securing two ends of pipes together. Tested by our team of skilled quality personnel, we are able to offer an qualitative range of these products to the clients. Pipe Couplings are packed in damage and tamper proof packaging so as to ensure their safe transportation.
Other details:
It is a pleasure to know your distinguished company. it is pertinent to mention that ACE, Korea is represented in India by Electromac Industries this is an introductory letter from our end with an aim to introduce ace couplings to your company & initiate mutually beneficial business association.
ACE, is fully capable of integrating the complete pipe, grip ring, multi-flex couplings requirements of our clients and offer to them as a comprehensive package immensely benefiting the existing buyers / clients.
Product; :- Leak Proof Couplings for Repair, Maintenance, as listed below range:
Pipe couplings
Grip ring couplings
Multi-flex couplings
Repair clamp double lock couplings
Repair clamp spread - opening couplings
Repair clamp hinged - opening couplings
The various sophisticated and complex valves supplied by us are based on the requirements projected by our buyer and they are made from sus 304, sus 316 etc conforming to rigorous international standards (api & ansi) with adequate capability to withstand high pressure applications as demanded by our esteemed buyers across the world.
ACE, Pipe Couplings produce a fast and flexible joint which lengthens the lifetime of the piping and lowers maintenance costs. Pipe couplings are used every where there are pipes. They can quickly join even piping of different materials. The flexible joints, requiring no special tools, are completely tight and durable. They also allow a diameter difference and a substantial inclined deviation between pipe diameters.
For shipbuilding, Offshore
For water and gas supplies
For building construction and civil engineering
For power plants
For machinery, design work
For industrial plants. Plant maintenance.
Enter Buying Requirement Details